By Om Tat Sat,
One of the unique festivals for Hindus, of hundreds to choose from, Holi will always be a favorite for most children and youth and every adult carries some memories for life. Not only does it indicate that the cold and chilly winter days are over, but that the hope springs forth with the season's changing. Many political revolutions have also occurred with the change of season, giving people new hope and aspirations.
March 9th and 10th turned out to be the Holi festival for Nepalese this year. The last full moon night is the celebrated auspicious occasion when some sort of evil from this world is laid to rest. There are myriad mythological stories associated with Holi. The most common one in the Hindu pantheon is the evil King HIranyakashyap whose son was an ardent devotee of lond Vishnu, so refused to worship his own father. The kind then ordered his own sister Holika, who had a boon that she would not be burnt by fire, to trick Pralhad to sit on her lap while she sat in a flaming pyre. Since Holika had misused her boon, instead of Pralhad who was in a meditation, Holika was burnt to ashes. Since then the people have started celebrating the death of Holika and called the festival as Holi. 
https://www.instagram.com/p/B9ikNH4FkrS/?utm_source=ig_web_copy_link
It was later during Lord Krishna's era that colors were added to the festival. Since Krishna was of dark complexion and Radha fair, Krishna's mom encouraged Krishna to color Radha in the color he wanted, so colors were added to this festival. Additionally, colors were made from extracts of vegetables, fruits, flowers and herbs so they had medicinal benefit to human skin. So whether as powder or mixed with water, smearing or drenching in colored water provided some health benefit to individuals.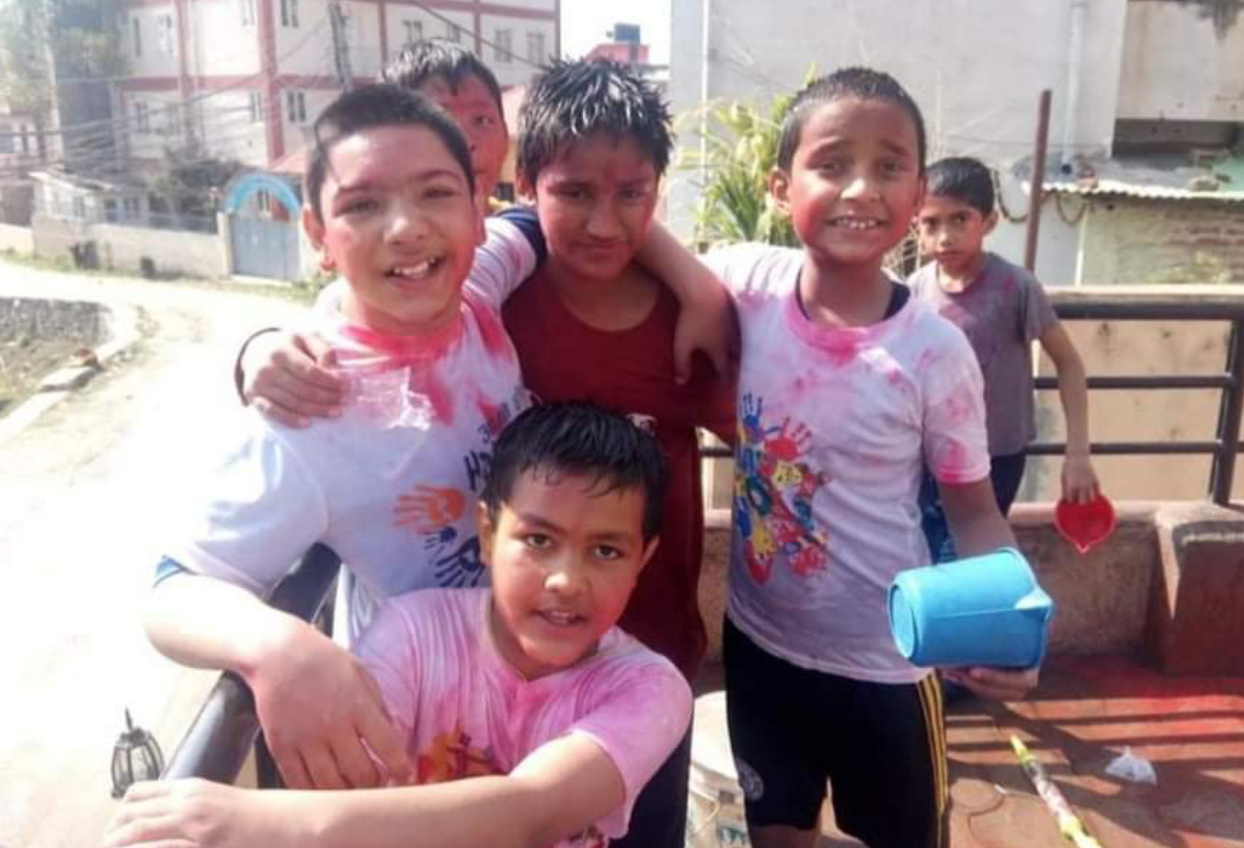 Bollywood has had a great influence in the South Asian sub-continent. In the 70's and 80's, I read about the grand celebration of Holi in the Indian film fraternity organized by the legendary Raj Kapoor family. Attending that festival was a mark of being a noted member of the fraternity. The high point of that celebration used to be a pool filled with all the colors and cine stars used to be dumped into the pool for fun and frolic. Not to mention, Bollywood has given us so many depiction of Holi in movies and popular songs to highlight the spirit of Holi, which was always depicted as a festival to spark love, forgive the negativity and embrace each other by giving another opportunity to live a good life:"Gile sikawe bhulake dosto, dusman bhi gale mil jate hai."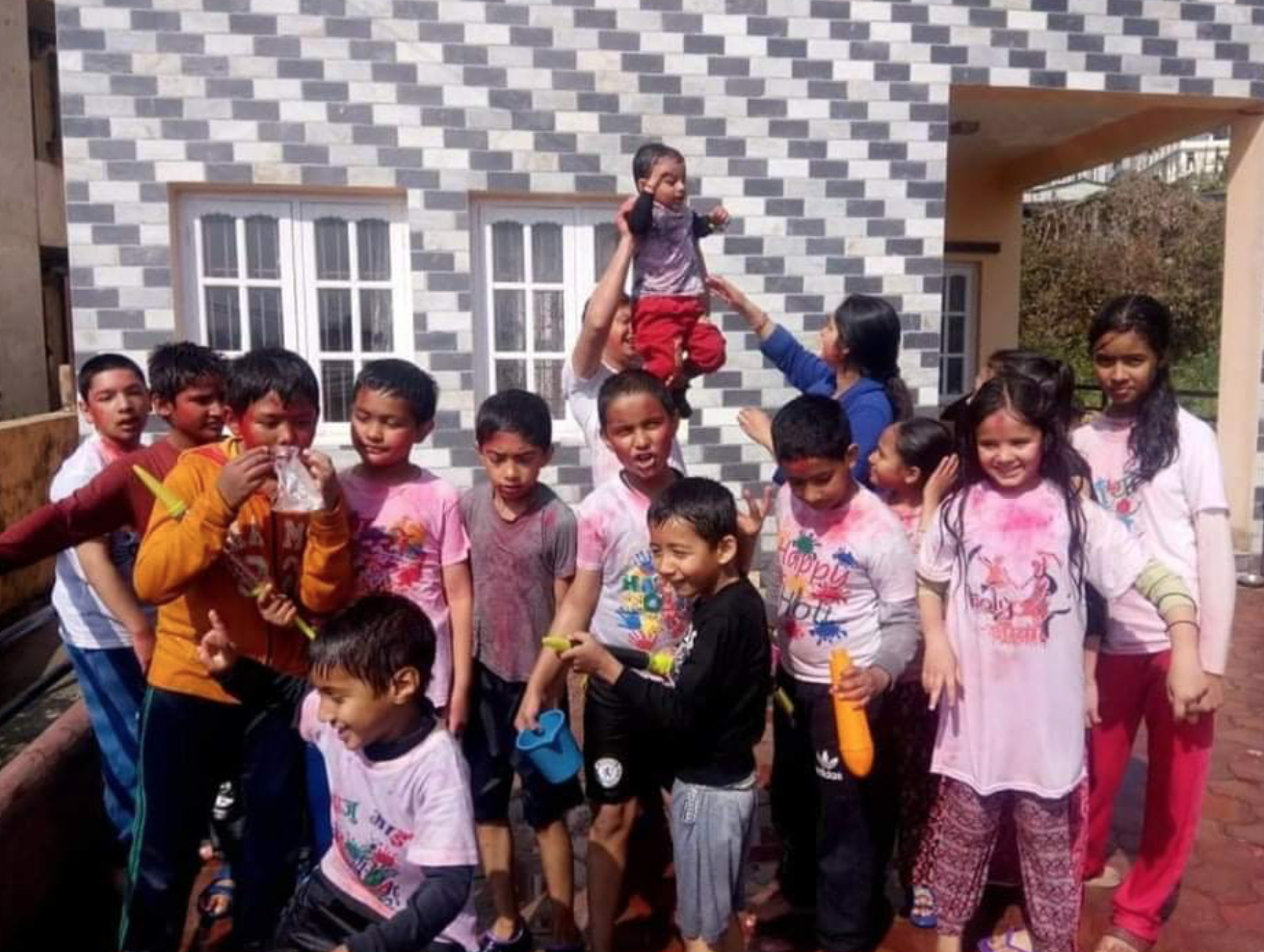 According to Nepali culture expert Dr. Satya Mohan Joshi for the Newar community in Kathmandu, Holi is also an equivalent to Valentine's Day. In the past, color powder and color water used to be specially prepared for the festival. Water used to be mxeed with alcohol, beetle leaves, kayle leaves, and even milk to spray upon the youth, who might even meet their mates on that fateful day of free mixing of boys and girls. There was even a special song for this special day professing love for a special lady. 
Nepal government had issued warnings not to celebrate Holi due to coronavirus fears. Nepal police had issued warnings that those abusing the festival would be duly taken action against. Despite these dampers, Nepalese came out and enjoyed Holi in a really high spirit. In the celebrated Kathmandu landmark, Basantapur, thousands of young people and tourists thronged and enjoyed the true spirit of Holi, camaraderie, love and bonding of equality.
https://www.instagram.com/p/B9j2RdqJDe3/?utm_source=ig_web_copy_link
Closer to home, in my college days, Thamel used to be an attraction for people, mainly because there used to be many tourists who also joined the spirit and mixed with the local people in jest. Of course, we also got to hear for the first time that some people took undue advantage of physical proximity and misbehaved with the female tourists. Not only that, Holi became a terror for girls of all ages as some boys and youth started throwing lolas (water-filled balloons) as girls walking in the street a month before the actual day of holy. When the girls were hit, they would be drenched with water and embarrassed, while the boys laughed at the misery. 
https://www.instagram.com/p/B9hN9IBF6PU/?utm_source=ig_web_copy_link
On the more sinister side effect of Holi, unlike the ancient times, the colors used for Holi are basically poison because they are mixed made from industrial dyes, oxidized metals mixed with engine oil. More than two dozens of harmful effects have been attributed to these chemical colors, including carcinogens, skin and eye irritation, bronchial failure, asthma, kidney failure, pneumonia and so on. They are not to be taken lightly. 
https://www.instagram.com/p/B9gk7fFlE3-/?utm_source=ig_web_copy_link
Thus, overall what was once a healthy, fun-filled celebration and promotion of community spirit, love and forgiveness epitomized by the multitude of Holi colors that promoted good health and communal happiness. Current age Holi is chemical fest that damages people's health as well as brings forth the culture of sexual abuse to our attention. The sickness of our mind can pollute the purity of the divine. That might even be why coronavirus is now causing a global meltdown in many ways. One of the oldest festivals, dating back to the Vedic times, has now been cheapened enough to pose a threat to individual and social well-being.
The writer is a graduate of Arizona State University in Political Science. He is working as a social activist and motivational speaker for students across Nepal since 2007.
The views and opinions expressed in this article are those of the author and do not necesarily reflect the official policy or position of Nepalisite.