By Om Tat Sat,
Arthur Gunn fired in all his engines, and was voted to be the first runner-up in this season's American Idol. Personally, I believe that this is the best thing that could've happened to him. Up to the top five selection, Arthur was predicted to be the contestant with the most votes. Thus, there is the factor beyond the voting many have admitted goes beyond just music and talent. Ultimately, these shows are not solely "talent shows"; they are also commercial programs.
Read: American Idol: Dibesh To Arthur- He Is Already A Winner
It is obvious that Arthur is already a winner. Ever since his first nationally-televised performance singing his audition song, he has gone from success to success, winning all of our hearts with his raw talent and unassuming demeanor, a shyness that is not very common in performers. He has greatly improved this season, in terms of performance and connecting to the audience.
Read: Arthur Gunn: "D Best" Lives Up To Expectation, Continues to Inspire
Naturally, many of his fans were disappointed that he did not win the title. Nonetheless, many are getting accustomed to the fact. One of his admirers, Kaleb Brown, on the official Facebook page, put it most appropriately: "He may not be the next American idol…but he's America's Idol."
Furthermore, Lynn Stewart, one of the moderators and and an admirer of Arthur on his fan page, wrote,
"My family has 4 generations that love Arthur Gunn. My mom 87, myself 56, my son 35 and his two kids 11 and 3 years old. His voice is ageless, it has crossed many oceans and united many people of different cultures, and religions, his voice has spanned around the world and touched the hearts of literally millions of people everywhere regardless of age, race, religion, or personal beliefs.
Who else in American Idol has done that? Who else has managed to keep people smiling in such times when we are all worried about our health and the health of our loved ones? Who has given us peace when we need it the most?
Thank you Arthur Gunn. Thank you for sharing your beautiful voice with the world."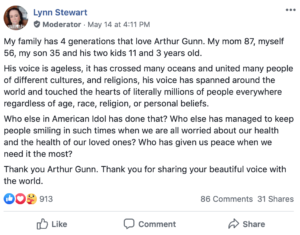 Arthur was genuinely appreciative by his support and his journey, and he did not waste the opportunity to express his gratitude. Writing on his facebook status, he humbly became a little poetic:
"As the sun goes down, the serenity and wildness takes over the night. The city is colored with bright lights, the sky is painted in Indigo and stars. Then, everybody is either dreaming or sleeping. Last night was the finale of @americanidol. The History was made! Wholeheartedly, I want to thank you all of you for supporting me in my (A)merican idol journey and voting me through it all."
As the sun goes down, the serenity and wildness takes over the night. The city is colored with bright lights, the sky is…

Posted by Arthur Gunn on Monday, May 18, 2020
Five years ago, he would not have imagined to be performing on American Idol, let alone becoming the first runner up. However, his large fan base is truly more important than his runner up title. As voting on the show is restricted to only Americans, a number of his supporters were not able to vote. Despite this, his devoted fans continued their encouraging support. One of these fans include Samuel Theodore, whose insight gives us all hope: "I haven't watched American Idol in 10 years and had no desire until I watched his audition and only watched to see him. …I will continue to not watch American Idol again and continue to just follow you."
Local (Wichita, Kansas) friend and supporter of Arthur Gunn sharing his support on Facebook.
When it comes to these singing competitions, winning isn't always everything. Oftentimes, the non-winners go on to have large and successful careers, unlike many of the winners. Just look at Jennifer Hudson, Adam Lambert, Fantasia, Daughtry, Clay Aiken, Kellie Pickler, and Katharine McPhee.
In a way, not winning is the best thing for Arthur. The strong pillar of support he has from his fans will stick with him, through all his future achievements and successes. Now that season 18 of American Idol is over, fans are excited for his bright future. Samuel adds " Can't wait to see you on tour in the future." Arthur himself has hinted doing this on his Instagram post, "I hope you'll join me in upcoming adventures!!! Peace and Love." He followed it up with a snippet of his new song, "Love is my redemption."
It will be a great spectacle to see which of the contestants will eventually be America's true Idol. Only their own dreams can limit them. I am sure that for Arthur, who has made it from Nepal to the USA, his dreams are limitless.
But for now, let us just celebrate his arrival to the world stage.
Arthur Gunn on Social Media
Instagram: https://www.instagram.com/arthur_gunn/
Facebook: https://www.facebook.com/arthurgunn122/
Facebook: https://www.facebook.com/me.dibesh
Twitter: https://twitter.com/ArthurGunn122
Listen to his music on
Spotify
Soundcloud
Youtube
Arthur Gunn ( Debesh Pokharel) OFFICIAL Fan Club. AMERICAN IDOL
https://www.facebook.com/groups/53910…
Arthur Gunn's (Dibesh) Nepali songs
https://www.youtube.com/playlist?list…
21 year old, Dibesh chose a stage name that is also symbolic of the power of an English name, given that the land he calls home now would find it easier to relate to him by his adopted stage name of Arthur Gunn. He is making many people proud, and social media has been one of the bright spots in highlighting overlooked talents. Dibesh has now become a pride of Nepal, his homeland, and Wichita, Kansas, his adopted home since five years ago. Idol Chatter has provided some basic background information on the budding star. He had migrated after completing his school leaving certificate exam. Although not from a musical family, he was gifted a guitar by his mom as a child and was exposed to music in his environment. After a long gap, he took up music again a year before he left for the land of opportunities. It was in Kansas, he was introduced to country and blue grass music, which he has embraced in his singing. Dibesh is definitely on a new track of his life. His name recognition has leap-frogged and his talent is in the world sight.
Celebration at Arthur Gunn's home after the final result of American Idol
The writer is a graduate of Arizona State University in Political Science. He is working as a social activist and motivational speaker for students across Nepal since 2007.
The views and opinions expressed in this article are those of the author and do not necesarily reflect the official policy or position of Nepalisite.