History could be in the making for Nepal to reach a turning point soon. The potential is immense in terms of fate of people of Nepal. Ravi Lamichhane has entered politics with his candidacy for forthcoming parliamentary election. The news has both the good and a sad component.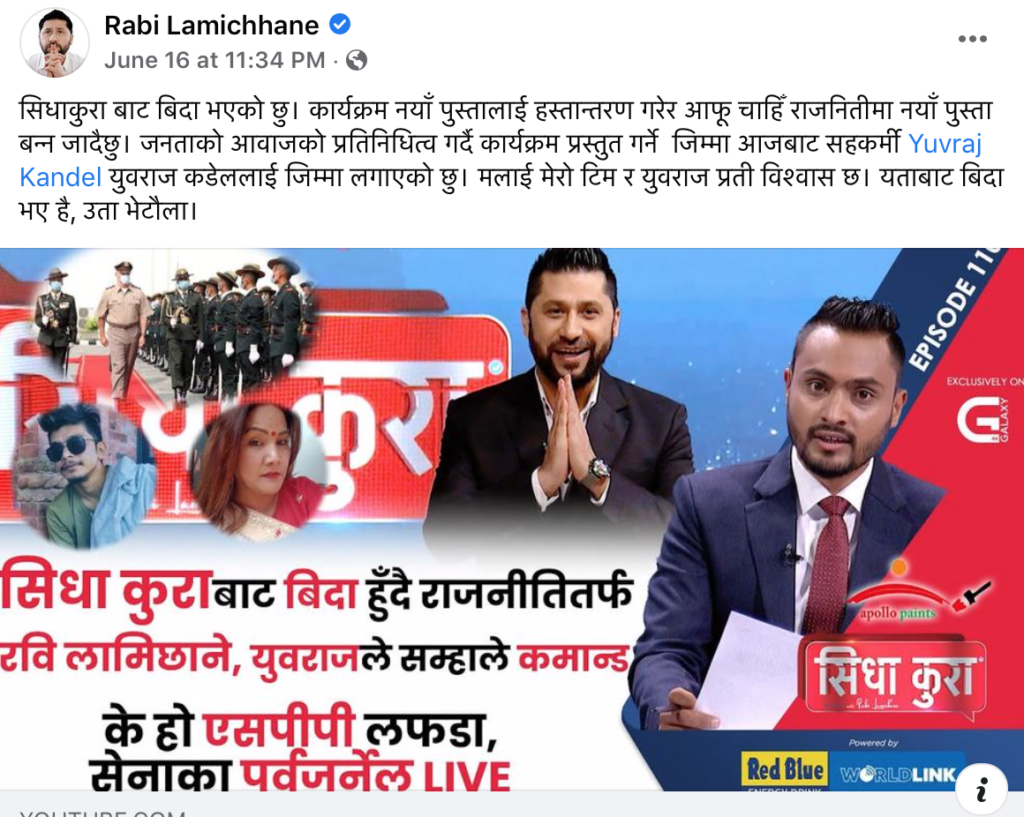 The past few days have been abuzz with a new excitement after Ravi Lamichhane, the noted Television personality, who has made a reputation as a truth-seeker, bold, and compassionate TV presenter of "Sidha Kura" (Straight Talk) becoming an owner of his own channel, announced on Facebook that he is joining politics. The news has excited youth all across the nation and they see a glimmer hope that good things could come out of this announcement. Change is in the air and nothing proves it more than the comments people have left under the post. Nothing spells enthusiasm more than millions of youth becoming energized.
There had been yearnings of millions of Nepali youth for him to take this step, and obviously the pressure on him must have increased after the last local election when independent candidates like Balen Shah and Harka Sampang won big and started walking their talk to serve the people in their municipalities as they had promised right from day one. 
Balen started taking bold steps within a month – waste management, vehicle repair contract with Mahabir Pun, cutting off pay for municipality bureaucrats for days they are absent, and overcoming all attempts by the political parties to throw a wrench in his work. Harka Sampang also went onto the street to clean up the waste, showed compassion for security personnel working in the streets by delivering snacks personally, and also addressing the drinking water problem of dharan while also producing energy from the waste in the city.
Ravi has become a victim of the political party conspiracy in the past and had to spend many days behind bars when he was framed for murder of a fellow journalist. Truth prevailed and he defeated the conspiracy in large part because of the overwhelming public support he received while he was locked up in Bharatpur. Ever since then, he has been consistently advised by people to enter politics for the sake of the nation. It is clear now that the events have convinced him that the right moment has come. 
Given the craze for independent candidates, political parties have taken two main approaches to hinder his march. The first one is to try to entice him to join their parties, and we have heard in the social media about the feelers sent by Congress Party, Ra Pra Pa and UML to join them. The second approach has been to nullify his enthusiasm by challenging him and his supporters that in a party system, an independent candidate can make no difference. Such naked ploys are not deemed to be making any difference, in fact, more people are advising him to remain independent or even form his own party. 
Looking at his track, the faith placed by people on him are valid. His track record shows that he has presented programs that related to the people, exposed corruption and excesses of the politicians and bureaucrats. He is the first name people have called out for help, especially women who are in distress in their foreign employment. Ravi has been able to help them escape such situation and rescue them. 
Politics is about serving the people, society, and the nation at large. In that regard, Ravi's mental attitude, personality and work have been consistently in alignment with political career. Of course, the challenges will be enormous for him, but we can assume that with the support of the general population, he will not lack support and be able to counter any adverse attack from his opponents. 
While we can all celebrate this new turn of event and be hopeful about our future, there is a tinge of sadness highlighted by the news. He was doing a great job in making high officials in the government accountable for their action, and work to keep them in check, just as most people in the media are supposed to do. That in itself is such an important task.
Now, since he has left that and joined politics means that politics of Nepal is in the wrong spot. People have lost faith in parties and the current political system. Ravi's entry just shows that the people in politics of Nepal are not there to serve, but to exploit the system by their penchant for corruption.  That is a sad reality exposed by this turn of event. However, we can hope that Ravi will be the light that will inspire youth and create a tsunami of independent candidates across Nepal to join him and create an alternate force that will set Nepal's politics on the right course.
The flint has been sparked by local election and now with parliament election fire is likely to spread to burn down the darkness of corrupt vices and give rise to a bright sunlight to start a new chapter for Nepal. 
The writer is a graduate of Arizona State University in Political Science. He is working as a social activist and motivational speaker for students across Nepal since 2007. 
The views and opinions expressed in this article are those of the author and do not necessarily reflect the official policy or position of Nepalisite.