It is the Shivaratri. Shiva, the protector of Himalayan land of Nepal. It is one of my most favourite days. So favorite that I even made a YouTube video for last year's Shivaratri. But this year, I can just enjoy the Electronic Dance Music of Kiran Nepali produced in collaboration with Deepson Putuwar, a rendition of Shiva's Tandav dance, so named appropriately TANDAV.
Watch the Video Below
It is just the right thing for Nepal right now because Tandav is the dance of Shiva for destruction of a cycle of creation to make way for a new cycle. "It means ground zero, the video resembles the life cycle of a human", Kiran told Nepalisite.
The track is well composed and the pace of the music with slick editing reminded me of Tandav dances performed by Bollywood actors in their movies. 
Tandav means total destruction, and it actually is a positive thing because it is the role of Shiva to destroy the creation at the end of the cycle for a new beginning so that the cycle of life, the creation and destruction can continue unabated. That is what the artists have professed to achieve by their take on "the story of life and death" by dedicating their creation to the lord of the universe.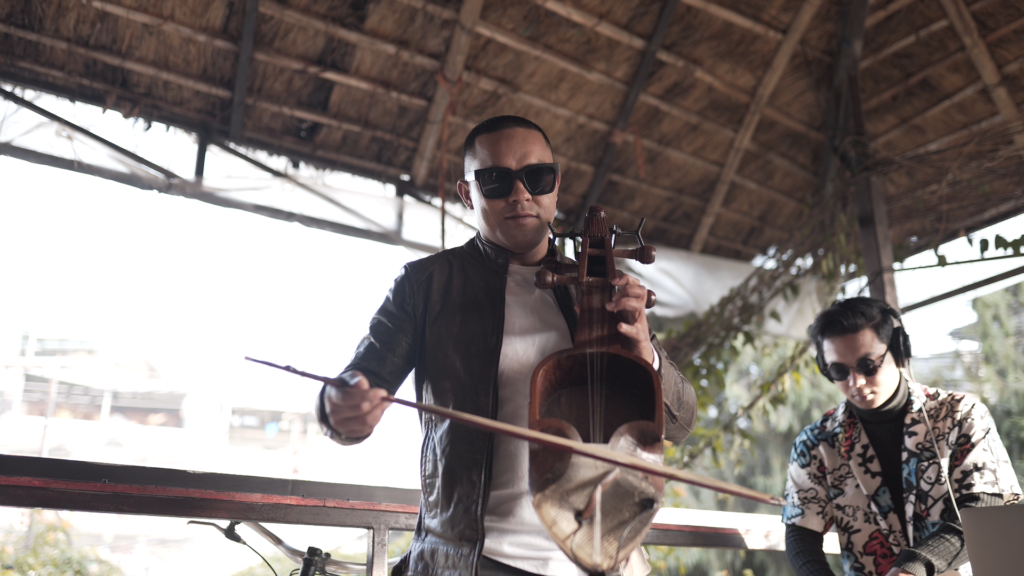 Listeners can feel the energy of the fast paced music even when listening with closed eyes, but watching the video is an enjoyable experience. The only thing missing is the image of Shiva's statue performing the Tandav dance, which is very prominent in Vedic culture. But putting the yogis signifies the devotion to Shiva and the connection to Pashupatinath temple.
Sarangi: Kiran Nepali
Sound Producer: Deepson Putuwar
Camera/ Cinematographer/Edit: Bijesh Bajracharya
Sound Mix/ Master : Kobid Bajracharya
Camera Assistance & Timelaps : Roshan Maharjan
Kiran Nepali, the man behind "Project Sarangi" is a well known Sarangi Player himself.  He is from Gandarva family who has been playing Sarangi for generations.  Kiran gained his popularity as a member of KUTUMBA, a popular Nepali folk instrumental group which he joined in 2008.  He has also been playing for Bipul Chettri and the Traveling Band since 2014.
Trying to revive Nepali Folk Music through Project Sarangi | Interview with Kiran Nepali
Asar ya Sinya Jya: A Newari folk tune about monsoon and the rice plantation in the valley.
Imagine… Sarangi Beyond Nepali Folk Music | John Lennon Would Have Been Proud
Kiran Nepali's Facebook Page https://www.facebook.com/nepali.kiran
Project Sarangi's Facebook page  https://www.facebook.com/ProjectSarangi/
Project Sarangi's Instagram https://www.instagram.com/projectsarangi/
The writer is a graduate of Arizona State University in Political Science. He is working as a social activist and motivational speaker for students across Nepal since 2007. 
The views and opinions expressed in this article are those of the author and do not necessarily reflect the official policy or position of Nepalisite.