Written by Bhumika Regmi.
15-year-old swimming sensation Gaurika Singh uses her prize money and voice to support girls' education in her home country of Nepal.
"I was there to do my best just like all the other athletes — irrespective of age," Gaurika says of being the youngest athlete at the 2016 Olympics in Rio.
She was only 13 at the time. After winning her heat in the 100 metre backstroke, Gaurika rocketed to international fame and became a role model for young athletes around the world.
Now 15, Gaurika balances a busy schedule of classes, practises and championships. "This leaves me very little time for anything other than studying and sleeping," she says. She is currently training to qualify for this year's Youth Olympics in Argentina.
Gaurika credits all her accomplishments — including the thirty national records she holds — to her family. "I am lucky that I have parents who support me so that I can continue to do what I love," she says.
But Gaurika knows the reality for other girls in Nepal is starkly different. Poverty in rural areas often force girls out of school and into the hands of sex traffickers. According to National Human Rights Commission of Nepal, more than 8,000 girls were trafficked in 2014 alone. And after a 7.9 magnitude earthquake struck the country in 2015, this number increased by 15%.
As for her own education, "sports and studies go hand in hand," she says. "That's what I plan to do — pursue my education and swim to the best of my abilities."
This article written by Bhumika Regmi was originally published at Malala Fund Blog, and is published on this site with her permission.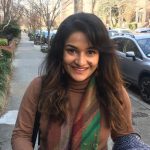 Bhumika is part of the Communications team at Malala Fund, an organisation founded by student and Nobel Laureate Malala Yousafzai. Prior to Malala Fund, Bhumika worked with Nepal Rising, a U.S. based non-profit that conducts relief and rebuilding projects post-2015 Nepal earthquake. Bhumika is originally from Kathmandu but completed her education at Clark University in Worcester, Massachusetts, where she received her B.A. in International Development and Social Change and M.Sc. in Professional Communications."
You can follow Bhumika at Malala Fund Blog.