Nepali climbers received a warm welcome upon returning home following their record-breaking winter ascent of Mt. K2, the second highest peak in the world.   The team that returned on Jan 26th, 2021 were greeted by huge crowds of supporters and well-wishers  at Tribhuvan International Airport in Kathmandu.
Sona Sherpa however stayed at the Base Camp of K2 for his next expedition.
"Nearly 700 climbers, Association heads, officials, media personnels, security personnels and well wishers showed up to welcome the mountain heroes as seen at TIA," according to Nepal Mountaineering Association.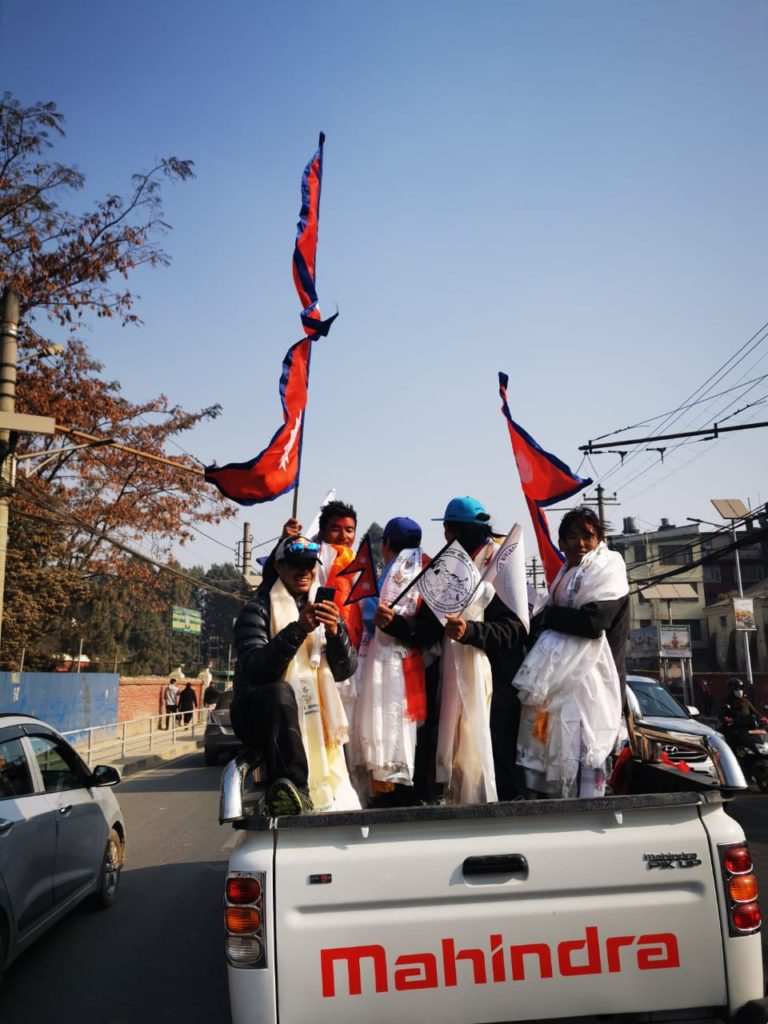 The climbers were greeted with flowers and Buddhist prayer scarves on their arrival at the airport.  Many fans on their bikes followed the team en route to Nepal Tourism Board, and later to the Prime Minister's residency in Baluwatar where the climbers were felicitated by PM Kp Oli.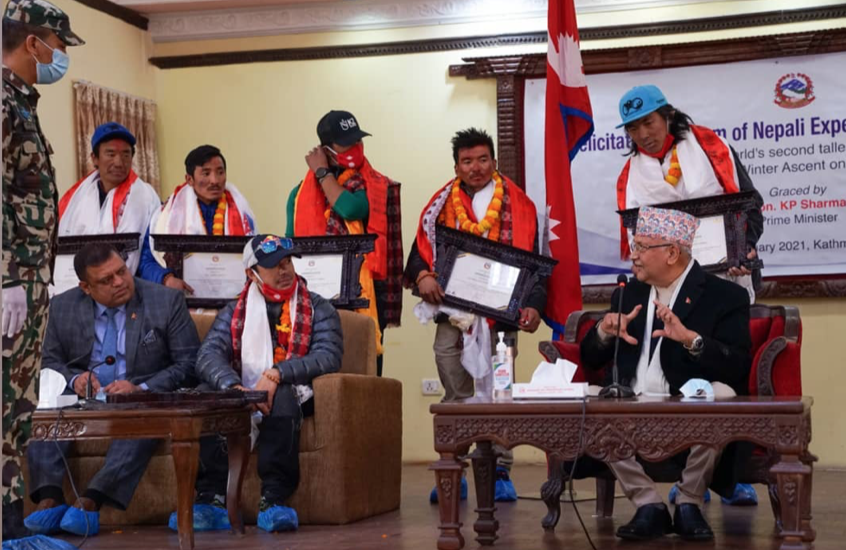 The team also had an evening reception at Kathmandu Marriott hotel.  Nirmal Purja at the reception said "If you unite, you conquer, if you divide you fall."
The 10 mountaineers also received a warm welcome in Pakistan before heading to Nepal.  Watch the video below.
"We had very warm welcome here in Nepal. We landed In Kathmandu International Airport yesterday morning and we were surprised to see hundreds and hundreds of supporters outside the airport waiting for us," wrote one of the climber, Mingma G on his Instagram.
10 Nepali Mountaineers made history by becoming the first to reach the summit of Mt. K2 in winter.  They all walked to the summit together on Jan 16th, 2021, singing the Nepali National Anthem.  Check out the video below.
A team of climbers from Nepal that made the first winter ascent of K2 received a warm welcome upon returning home on January 26, 2021. The 10 Nepalese climbers reached the summit of the world's second highest mountain on January 16, climbing to an altitude of 8,611m (28,251ft).
10 Nepalese climbers were:
1. Nirmal Purja (Nimsdai)
2. Mingma David Sherpa (Team Nimsdai)
3. Mingma Tenzi Sherpa (Team Nimsdai)
4. Geljen Sherpa (Team Nimsdai)
5. Pem Chiri Sherpa (Team Nimsdai)
6. Dawa Temba Sherpa (Team Nimsdai)
7. Mingma G
8. Dawa Tenjin Sherpa (Team Mingma G)
9. Kilu Pemba Sherpa (Team Mingma G)
10. Sona Sherpa (Seven Summit Trek)
Previous winter expeditions according to Nirmal Purja included the following but were not able to reach the summit :-Winter Expedition Timeline: (above 7000m)
1987/1988: Polish-Canadian-British Expedition- 7,300 meters.
2002/2003: Netia K2 Polish Winter Expedition – 7,650 meters.
2011/2012: Russian expedition – 7,200 meters.
2017/2018: Polish National Winter Expedition- 7600 meters.
Sadly, the Spaniard mountaineer Sergi Mingote, perished after a long fall while descending to Advanced Base Camp from Camp 1 (6,050 m).
https://twitter.com/sst8848/status/1351169498909462528