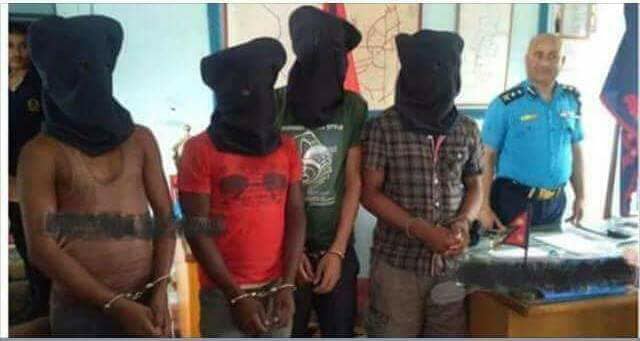 Police have arrested rest of the the three culprits involved in June 11th gang rape case in Aurahi Rural Municipality-2 in Mahottari district .  Aniket Yadav (20), Ramesh Panjiyar (21), Suresh Yadav (20) were arrested on Thursday while 22 year old Sunil Sah was arrested on the same day of the incident.
21 year old beautician was gang raped on June 11th, 2017 while returning from her salon according to the reports.  She was hospitalized for the care and has been discharged and is with her family.
Beauticians, women entrepreneurs, and others from all over Nepal had participated at several protest rallies demanding for justice for 21 year old victim.  Mrs. Kamala Shrestha, president of  Saundarya Kala Byawasayi Sangh Nepal (Nepali Beauticians Association) had also submitted the memorandum to honorable Home Minister Janardan Sharma requesting to search for the rapists and take serious actions against them.
After the arrests of the culprits, Mrs. Kamala Shrestha on her Facebook page thanked to all those who supported, specially to Saundarya Kala Byawasayi Sangh Nepal chapter of Dhanusha and Mahattori.