The remains of mountaineers and childhood friends Kristinn Rúnarsson and Þorsteinn Guðjónsson were found by an American mountaineer recently in Pumori, Nepal, some 30 years after they disappeared.
According to Rúnarsson's father, Rúnar Guðbjartsson, speaking to mbl.is, the two men lived for mountaineering and had already climbed South America's highest peak and several mountains in North America before heading to Nepal in 1988.
Guðbjartsson remembers the day that he was told that they were lost on the mountain. "It was terrible. I was driving on Miklubraut (Reykjavik) and my oldest son drove up towards me with his arms waving to stop the vehicle. I stopped at Lönguhlíð and he told me had news from the mountaineering club that they were lost."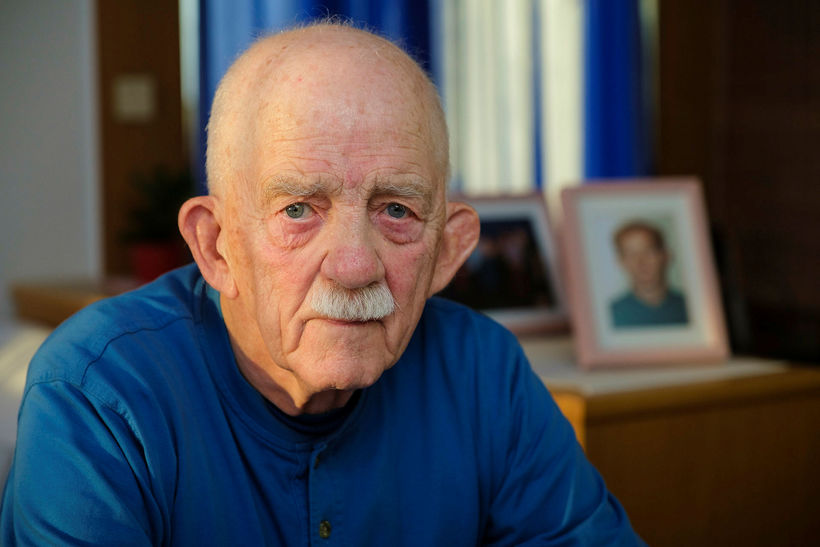 "It's impossible to describe. It was so painful," says Guðbjartsson. Search parties were sent out to no avail. Seeing as their remains were never found, there were stories afoot that they had gotten lost and ended up in China.
Kristinn's girlfriend was pregnant when he died on the mountain. "Five months after he was declared deceased we sort of got him back, he's the spitting image of his father," Guðbjartsson says of his grandson, Kristinn Steinar.
A few weeks after Kristinn and Þorsteinn were lost ,Guðbjartsson received a phonecall from the director of the Landsíminn telecommunications company who had been at a conference in Japan. He had been a passenger on a jet when a man sat next to him, an Icelander, who told him he'd met two Icelanders when climbing Pumori. The man, an Australian, had been with a group of people going down the mountain when he met Kristinn and Þorsteinn going up. He was very sad to hear that they had been lost. He had seen them reaching the summit of the mountain and wrote a letter later to confirm this to their relatives.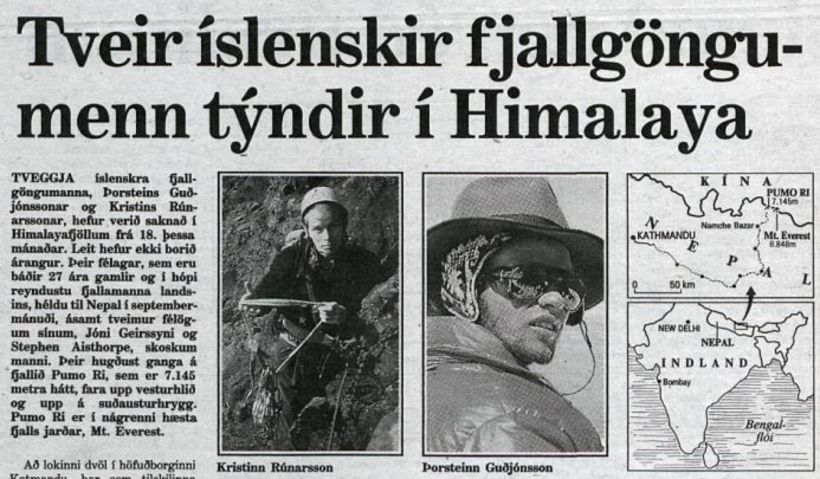 In the last postcard reveived by Guðbjartsson, Kristinn told his father that he could see the peak of Pu Mori, "their mountain."
According to Rúnar it took the family a long time to accept Kristinn's fate but that that their stoicism helped. I thought, it's terrible, but young people die every second somewhere in the world. How could I have expected to be exempted from that.
The news that the bodies of Kristinn and Þorsteinn had been found were reported before this weekend. "When people were hugging me and giving their condolences I said, congratulatea me instead, he's been found." Guðbjartsson is not sure what the conditions are like in the mountain and whether the two bodies will be transported down and then to Iceland. "It's not the most important thing, the important thing is that they were found and we have closure."
He also tells mbl.is that he received a phonecall from his grandson yesterday morning.
"He told me that Kristinn and Þorsteinn had told people that if something happened to them, the mountain could keep them. They didn't want to put people in danger to save them. The mountain would take what it was going to take."
This news article was originally published on Iceland Monitor, and is republished on Nepalisite with permission.