The social media primarily seems to be taken up with the case relating to sexual offence of Paul Shah and a minor Samikshya Adhikari. Frankly speaking, none of the two occupied any space in my awareness. I was barely aware of Paul Shah, and felt what a strange name for a Nepali, and had a positive image from some headlines related to his activities to help the needy people. The girl could have been any of the similar names, dime a dozen. Then, I associated it with that famous name about the precious nature of childhood. I had heard that song, and liked it. 
So, when I heard the news about the girl filing rape charge against the actor, it was a stunning news. Obviously there are people supporting both parties. Women are overwhelmingly supporting the female and the others seem to be supporting Paul claiming that he has been framed by the accuser, who dreamt and proposed him for marriage, and that his own close team members were jealous of his success and wanted to bring him down. Paul surrendered himself to the Tanahu police where the first report was filed, and police are sorting out the issue. We will know soon the validity of the case.
However, this highlights an important issue – sexuality and the age of consent.
Regarding sexuality, Nepal is a pretty closed society, although it may not look that way when checking out TikTok. Traditionally Nepal has not allowed open discussion about sexuality nor teaching it in school to better educate and prepare the youth to make proper and right decision. People are still shy to talk about sex, or even ask any questions so much of teenage, and adult age remains shrouded in misinformation, and questionable fulfillment at the sexual front.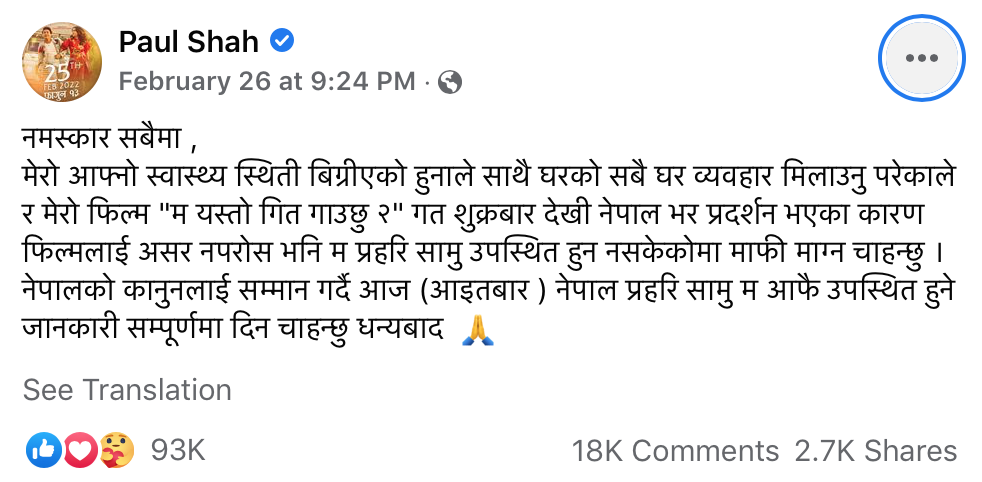 There seems to be a contradictory values clashing in Nepal today. While the society itself shuns openness like the West, the teens, unaware about the nature of sexuality and norms, are exposing themselves sexually on social media like TikTok, which really is not in their best interest. Most teens do not seem to be aware at all that such graphic and visual display of their sexuality could backfire on them because men are visual animals and pursue their fantasy continuously and are likely to take such display as an easy target for their misadventure, causing much problems. I had heard of a TikTok star in Bhaktapur being mishandled by some boys some time ago. 
The most important part to handle such issue is education. While the girls are reaching puberty earlier, even before hitting teenage, the idea of raising the age of consent to 18 seems somewhat insensible. It was fine for yesteryears when girls reached the age of reproduction in late teens or even adulthood, but now, due to the influence of cheap Bollywood poisonous movies, females are subject to objectification and exploitation more than before. The age of consent around the world is as low as 12 years in Angola and Philippines (proposed to raise to 16), and 13 in Japan, Niger, Comoros and Burkina Faso. Prominent countries like China and Brazil has 14, while countries like Denmark and Sweden has fixed it at 15. Incidentally, Muslim countries have no age of consent so only marriage allows that privilege. Hence there might be greater compulsion for child marriage. That is a different issue. Since Nepal has age of consent 18 now, with a ban on pornography by Oli government, there seems to be much problems brewing under the surface which surfaced during the lockdown, the rape and violence against women and girls increased significantly. During the first phase of the lockdown, rape cases surged alarmingly.
What the people here fail to understand is that sex is a natural biological fact and needs a proper education, social mores and a fair legal system. It is better to educate and promote the rights of girls and women, than deal with it legally and criminalize society by unjust, ill-gotten, legal system. The best approach would be to elevate the status of women, not objectifying them as object of lust, as promoted by the West and in popular culture.  
The writer is a graduate of Arizona State University in Political Science. He is working as a social activist and motivational speaker for students across Nepal since 2007. 
The views and opinions expressed in this article are those of the author and do not necessarily reflect the official policy or position of Nepalisite.