The COVID-19 pandemic has impacted the music industry greatly: cancelled tours, delayed album releases, etc. However, Diwas Gurung made the best of his time at home, producing music for other artists, and with the release of his new single "Laujiu" in December of 2020.
The music video has already amassed over 100,000+ views on youtube, and fans are praising the song's mesmerizing melody and heartfelt lyrics. But what is the backstory behind "Laujiu", and how did it come to be? We spoke with Diwas to get a deeper look.
This interview has minor edit.
Please consider buying a cup of coffee to our Nepalisite volunteer writer.

What is the history or deeper meaning of this song?
Diwas Gurung: The song 'Laijau' was written by my father who goes by the stage name of O.B Soaltee. It was a song that was written by him a long time ago in late 70s, right around the time my father and mother first met.
This was a very musically-creative time for him, as he wrote 'Laijau' , 'Mai Runchu' and a few other songs while he was stationed in Dolpa. The feelings of love and the landscape he was surrounded by provided a lot of inspiration to him, which helped into the song's melody and lyrics.
I first heard the song in a cassette recording that my parents had made, back when that was one of the only mediums used to preserve memories. In the tape, you can hear my parents' friends urging my father to sing 'Laujiu' at a get-together.  After some hesitation, he begins singing the song; this is how I heard the song for the first time.
What part of the song/lyrics touched you the most? 
I always loved the lyrics and the melody of the song. It has a sense of simple elegance that is very unique to that particular era, which is quite hard to find nowadays.
My favorite part of the song (and there are many) are the lines ' Ma ta timrai hoina ra thuli, timlai malum kei paani chaina ra'.  I love how my father used the word 'malum', which is a Hindi word, and at that time it was a word used frequently by Nepali army soldiers and migrant workers who were stationed and working in India. It's a word that has fallen out of fashion in modern-day Nepali plain speaking, yet it transports you to a different time and place when hearing it. To me, that is the ultimate goal of a good song.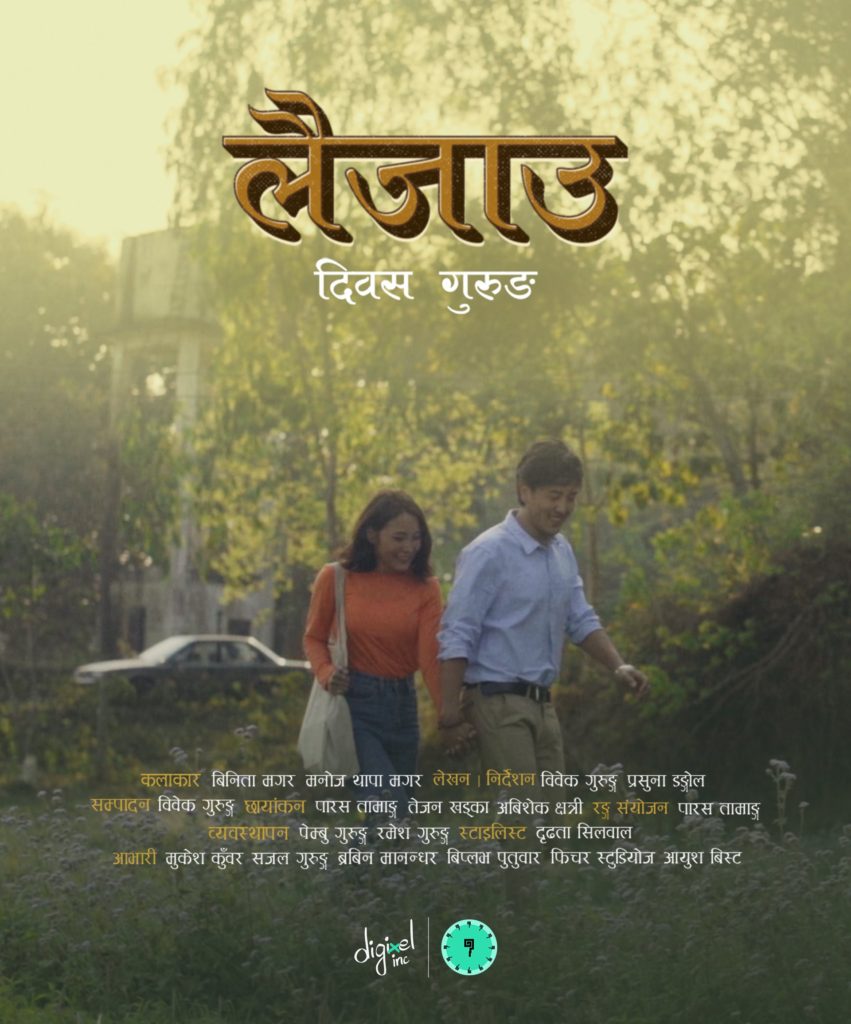 This is not the first time you recorded your father's song? 
No.  I have recorded 'Mai Runchu' which was written by him as well.
Read this too: Diwas produced Arthur Gun's Single
Tell us about your recording process.
It took me a long time to settle on an arrangement for the song. Since I produce and arrange my own music, I had the freedom to try out a lot of different versions of the song until I felt satisfied with the direction I was taking. Recording a song my father had written before I was born, came with an overwhelming feeling of nostalgia for me. Nostalgia is a common theme throughout my music, so I thought that marrying the song's very "Nepali" melody and lyrics, with the sound of western 80's synth pop, would be interesting. After all, I was born in the 80's, and music of that era has a very special place in my heart.
Once the direction was solidified, I recorded and performed all the tracks in my home studio in Brooklyn, NY and mixed it there as well. The mastering for the song was done by Roop Patel, who is a great engineer from the UK and is responsible for mastering many wonderful Nepali pop sounds coming out of the UK.
I also have to give a special mention to the team at Digixel and the great actors who made the video for the song. I think the video has really helped people connect with the song more.
How did your parents respond to the song?
My father loved the song, even from the first draft, which I found a bit surprising because I did not know how he would react to the "synthy 80's vibe" of the song. My mother, who is the song's muse, loves the song, and that means the world to me.
Diwas Gurung on Social Media
Instagram:https://www.instagram.com/diwasg/
Facebook: https://www.facebook.com/diwas.gurung
Listen to his music on
Spotify
Youtube
If you like this article then please consider supporting Nepalisite.com. You could buy our writer a cup of coffee.


In case if you missed Diwas Gurung's earlier Interview that was taken in 2012.
Interview with Diwas Gurung in 2012