Government of Nepal on Wednesday has expanded a travel ban on all passengers flying in from Europe, West-Asia, and all the Gulf Countries, Turkey, Malaysia, South Korea and Japan.  The ban also includes Nepalese passport holders, and will be into effect from March 20th, midnight until April 12th, 2020.
Department of Immigration issued the following statement on their website : –
Very Urgent Updated Notice Regarding Arrival Restriction in Nepal (Updated on 18th March, 2020, Wednesday 23:45 HRS)
Government of Nepal (GoN) has been monitoring the present global pandemic, scale of severity and spread of Covid-19 around the world.
Guided by the WHO flash reports and recommendations and learning from the international practices, measures and force majeures to combat against COVID-19, the National High Level Coordination Committee, GoN has made the following decision directly related to Arrival Restriction in Nepal which shall come in to effect from 20th March, 2020 (Friday) midnight Nepali Standard Time (NST) to till 12th April, 2020 (Sunday) midnight (NST). 
Decision on Arrival Restriction: All the passengers coming through direct flights, having a transit at, and taking the first flight of their origin from Europe, west-Asia, and all the Gulf-Countries, Turkey, Malaysia, South Korea and Japan are subjected to Arrival Restrictions in Nepal.
Note:
This Notice will be circulated shortly to Nepali diplomatic missions abroad, foreign diplomatic missions in Nepal and International airlines companies bound to Nepal.
Department of Immigration has launched a hotline Service (+977-1-4113045) at Immigration Office, Tribhuvan International Airport for immigration related information.
Please visit our official website (www.nepalimmigration.gov.np) for any new updates on immigration control. For further enquiries, please contact to Department of Immigration at +977-1-4423138 from Sunday to Friday (10:00-17:00 Hrs NST)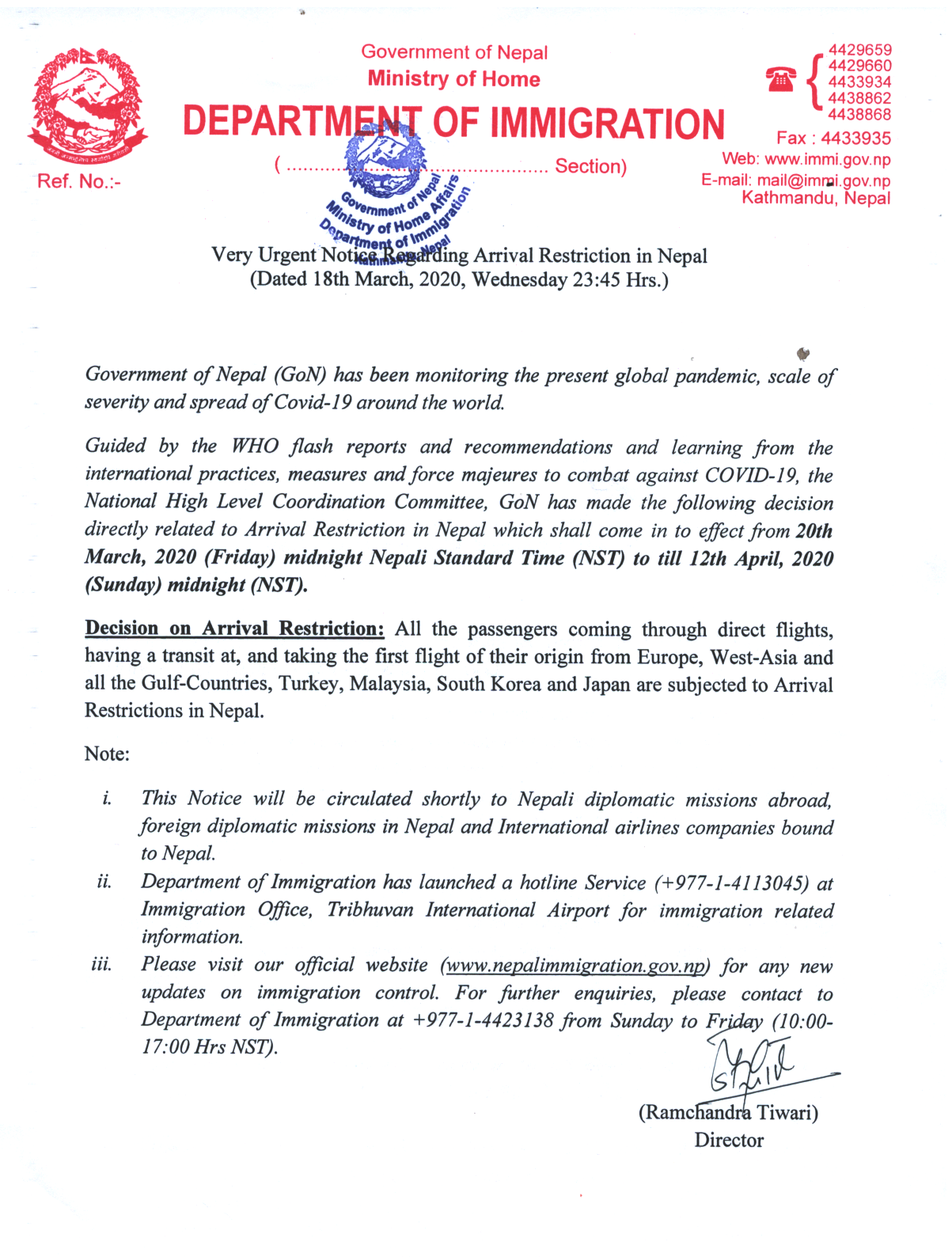 "The government has also decided to shut down all cinema halls, gyms and health clubs, museums and cultural centres until April 30, and has banned gatherings of more than 25 people at a time," according to the report in The Kathmandu Post.
Due to the outbreak of the coronavirus (COVID19), many countries have taken steps to address the outbreak.  According to World Health Organization (WHO), as of Friday (March 19th, 2020), 207,855 confirmed cases of the virus had been reported in 166 countries with 8648 deaths.
Q&A session on the Covid-19 Novel Coronavirus with Dr. Elina Shakya, and Dr. Nabin Shrestha, an Senior Infectious Disease Consultant at Cleveland Clinic.