Update:  Ujwal Thapa passed away on June 1st at 4:25 pm (Nepal Time).
Founder of Bibeksheel Nepali party, Ujwal Thapa is in critical condition with COVID-19.
The following is an update on Ujwal's current COVID-19 condition, according to his close friend, who shared with Nepalisite and would like to remain anonymous.
Ujwal (45) was diagnosed with Covid-19 on May 16th during his family-friend trip to Everest Base Camp. He was then admitted to HAMS for few days, then was transferred to ICU with Ventilator at Grande Hospital.
His condition further worsened.  He was no longer supportable with  ventilation at the highest setting.  His lungs were severely damaged by then.  Then on May 28th, doctors suggested for ECMO treatment (Extracorporeal Membrane Oxygenation) at Mediciti hospital. Doctors at Mediciti immediately started ECMO and his friends started the Fundraising campaign at GoFund to help cover the expensive medical expense (approx 2laks/day). Within 24 hrs, $25k was raised on GoFundMe from global individual donors and another 25 lakh in Nepal with Khalti, eSewa and Bank deposits.
Thousands of people sent their prayers too from all over the world and from every part of Nepal. Unfortunately, no significant changes were seen on Ujwal.  The fundraising campaign has stopped after the goal was met.
His doctors on duty are the best available in Nepal, with the finest international experience performing the best available  medical procedures in the nation which is as good as anywhere else in the world, according to the lead doctor, who himself is a very close friend of Ujwal. No stones are left unturned. No exceptions are being made. It's because of the critical condition that Ujwal cannot be moved elsewhere abroad, although any such abroad treatment is already being administered in e-presence of some of the world's best doctors as we speak.
It has been really hard on Ujwal's parents and his spouse Erika to cope with the unfortunate situation. Ujwal's well-wishers, followers, and volunteers are on stand by at Mediciti to relay messages, assist the family, and to make sure the hospital area remains dignified without any unruly acts of frustration.
More than 20 A+ blood donors are also on standby if needed.  Additionally, a council of expert medical professionals are administering additional procedures on Ujwal within the next few hours, which still leaves us with hope. Ujwal has always been a fighter and he will rise again. Thousands of prayers shall not go unheard. Thousands of blessings shall help Ujwal defy all odds.
Ujwal who went to Budanilkantha School is also the co-founder of entrepreneurial forum Entrepreneurs for Nepal.
Ujwal Thapa's Health update
5:45 PM Nepal Time May 31, 2021
Although the PCR result came in negative, the virus has left the body with some unrecoverable damages.
Ujwal is still under life support (ECMO & Ventilator) and doctors are doing all they can.
Update:  Ujwal Thapa passed away on June 1st at 4:25 pm (Nepal Time).
Read this: नेपालमा आँउदो संकट (कोरोना महामारीको दुई बर्ष भित्र) – Written by Ujwal Thapa
https://twitter.com/thektmduke/status/1397889544066764806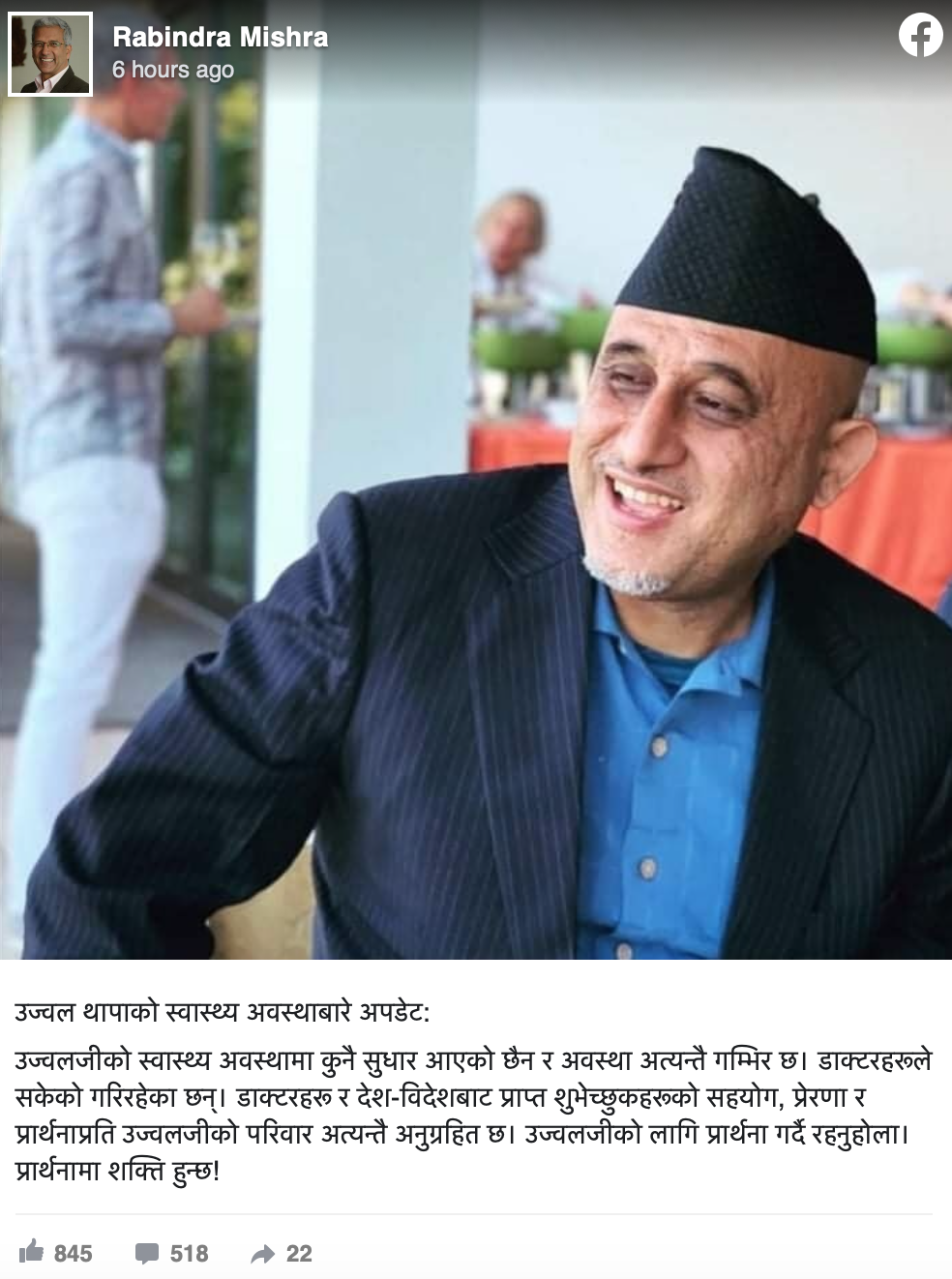 Hoping Ujwal Thapa pulls out of this … We keep pinning our hopes in the younger generation in public life, which is where he has been building a foundation for long term people-oriented politics.https://t.co/yaTVnLdef2

— Kanak Mani Dixit (@KanakManiDixit) May 30, 2021
UT always stood for people's well-being. And as responsible citizen always alerted government. @ujwalthapa Wake up dude!! pic.twitter.com/MQbFGHs6sk

— Dibyesh Giri (@DibyeshGiri) May 29, 2021
I have contributed my share, Please help reach the target !
Wish @ujwalthapa jee full & speedy recovery. #Pray4Ujwal

Ujwal Thapa Treatment Fund https://t.co/EfMaOm0NXR

— नारायण काफ्ले #DalitLivesMatter #SaveOurGirls (@npkafle) May 29, 2021
https://twitter.com/jagannathlc/status/1398154671940943874