By Om Tat Sat,
The developed society may be protesting and even the children are boycotting schools every Friday, but an average Nepali is not knowledgeable about the climate change issue, and will not connect the dots between the sweltering heat and torrential Monsoon that we faced in June.  We are fortunate to have a pick of torture-sweat or drown.
Officially, the Monsoon was late by 10 days, June 20 instead of June 10. However, the rain God Indra made up for the delay by sending the deluge all at once. According to Nepali Times July 13 news report, many parts had a month's average rainfall in three days. No wonder, roads and many areas all over Eastern and Central Nepal resembled canals in Venice, only gondolas were missing. Western Nepal might be awaiting the same fate.
At the time of this writing, the casualties is approaching 100, in the 32 districts that are affected with 11,839 households have been displaced. According to the International Federation of Red Cross about 76,990 families (384,950 people) have been affected and 18,694 houses are damaged or destroyed in Nepal. Relief operations from the government officials have been inadequate, more photo ops with aerial survey and some promised aid while visiting with empty hands.  The deluge in Nepal does not remain here, hence including Bangladesh and India, al least 1 million people have been affected, reports The Guardian. 
Monsoon miseries are annual occurrences.  While external factors such as the climate change, and Indian government policy to build dams across the border–breaching the international convention, Nepal's own internal factors are more problematic in exacerbating the situation. True, climate change increases the intensity of rain in the short time spans and cause havoc; while Indian policy of building dams submerges the southern territories of Nepal.  But the ignorance and preponderance of egotistical actors in Nepal's leadership cause greater damage. In the name of development, people have been saddled with destruction.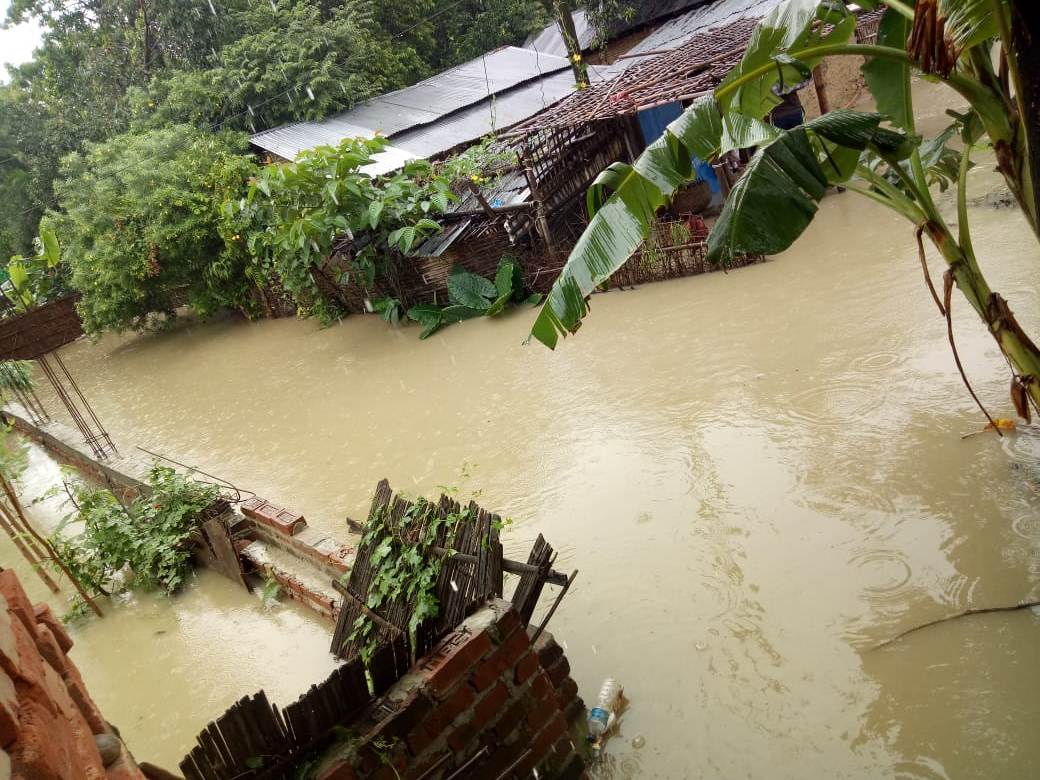 In the hill area, there are massive landslides destroying lives and properties. After the local election, there is a noticeable trend going on to show progress in all villages. Development for these local leaders mean digging roads, hence ward chairmen, independently are using whatever little budget they have to buy excavators to dig into hills and build tracks,  without any engineering or environmental studies. As a result, water sources are drying up and forcing people to relocate, while during monsoon, the heavy rainfalls are causing havoc. Such roads are being wiped out by landslides and more casualties are becoming regular.
In the Terai too, black topped roads are being built with no provision for water to run off safely. As a result, even what used to be considered high elevation safe areas are experiencing flooding; hence people are breaking those roads to prevent water from filling up their homes. Additionally, the uncontrolled commercial excavation of gravel and sand with unscrupulous harvesting of forest of the Chure hill areas across Nepal is also affecting the volume and speed of water flowing to the plain areas.  Flooding damages have become normal. 
Ignorance is the cause of suffering, Buddha had told the world after his enlightenment. In Nepal it is in full display.  Narrow and self- interested local and provincial leadership are making ad hoc decision, leading to foolish policy and expenditure. As this trend progresses, flooding could be an integral part of life. 
Come to think of it, we might even turn disaster into profit. With some more foolishness Nepalese villages and cities could easily be converted to Venice of the East. It could be promoted as great tourist attraction. Actually converting the streets into waterways, we could start to give a stiff competition to Venice and give alternate romantic getaways to romance-seeking tourists.  Nepal's tourism potential could spread to southern districts as much as the hills and the mountains.  Even if we do not succeed in that,  it would still be a good preparation  for the Oli ship that was promised long ago. See, we could easily turn destructions into a win-win situation.  So let's celebrate imprudence. 
The writer is a graduate of Arizona State University in Political Science. He is working as a social activist and motivational speaker for students across Nepal since 2007.
The views and opinions expressed in this article are those of the author and do not necesarily reflect the official policy or position of Nepalisite.