By Om Tat Sat,
Do you remember the Nepali movie Loot? It was about a bank heist. The young men need to have money and they rob a bank.  That has been the case for most people. If you are the government, then you can just print the money. There has been only one person in Nepal who can make all the money he wants by himself. His name is Siddharth Upreti, a 17-year-old science student from Jhapa, whose passion has more to do with arts. Wouldn't it have been fantastic had his passion and field of study were matched? Well, that is a topic for future discussion. Today, let's get to know a little more about a young man who mints his own money.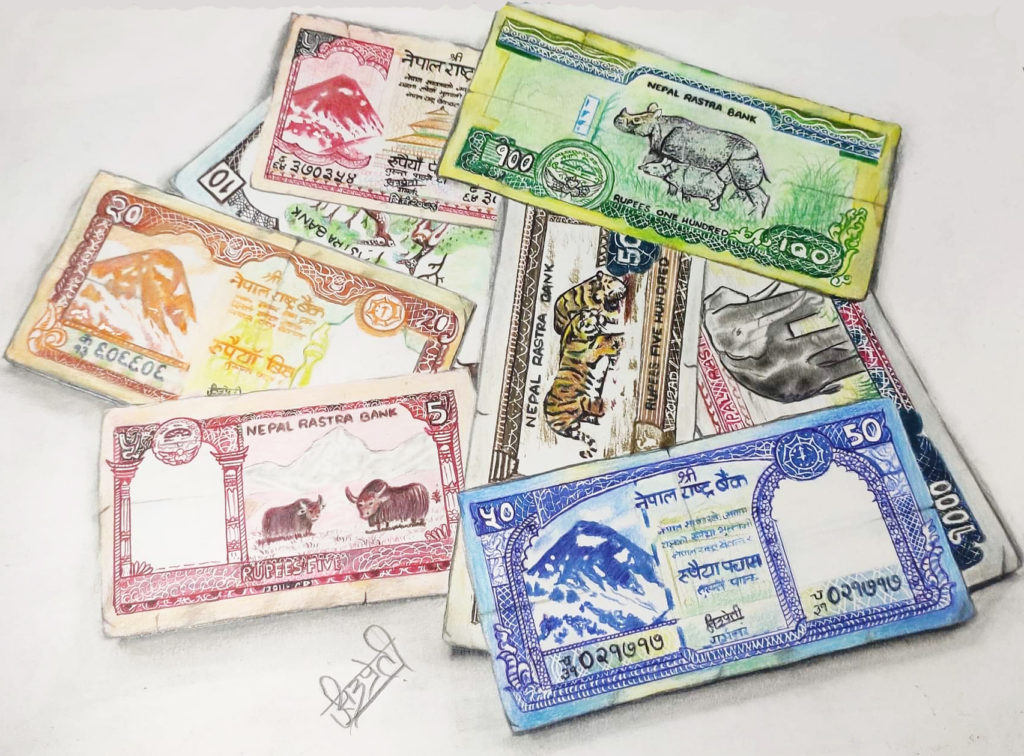 Siddhart was born an artist. You can conclude that since he liked to draw since he was a toddler in nursery class.  When you have a natural talent, even if you do not get training classes or other such opportunities, you can make it on your talent. Had there been someone to nurture and mentor him, his life probably would be noted as a renowned artist, but that was not to be. Despite having no such doors opening for him, he has managed to carve a niche in drawing realistic Nepali notes. You can see his demonstration in YouTube video below.
The world loves money. When he showed his skills to draw all the Nepalese currencies from Rs 5 to Rs 1000, he has gained much appreciation. It will not be a surprise if he will develop a fan following of girls. Just kidding. But why not? Who would not want to have someone who can create money, right? Give him 15-20 hours and you could have few thousand notes with you. But, he does not seem to be the kind of guy who would put his skills to any nefarious use. For others having no moral compass, that would am unbeatable temptation.
Although his main tools are charcoal and pencils, Siddharth told Nepalisite, that for the popular art of Nepali currencies, he uses ball pens and Staedtler Luna Color pencils. The biggest challenge for him is to mix the colors correctly to come up with the right matching. You can decide for yourself how realistic his art looks. I am ready to vouch that even the tellers in banks might find it hard to reject his creation. Scary thought, right?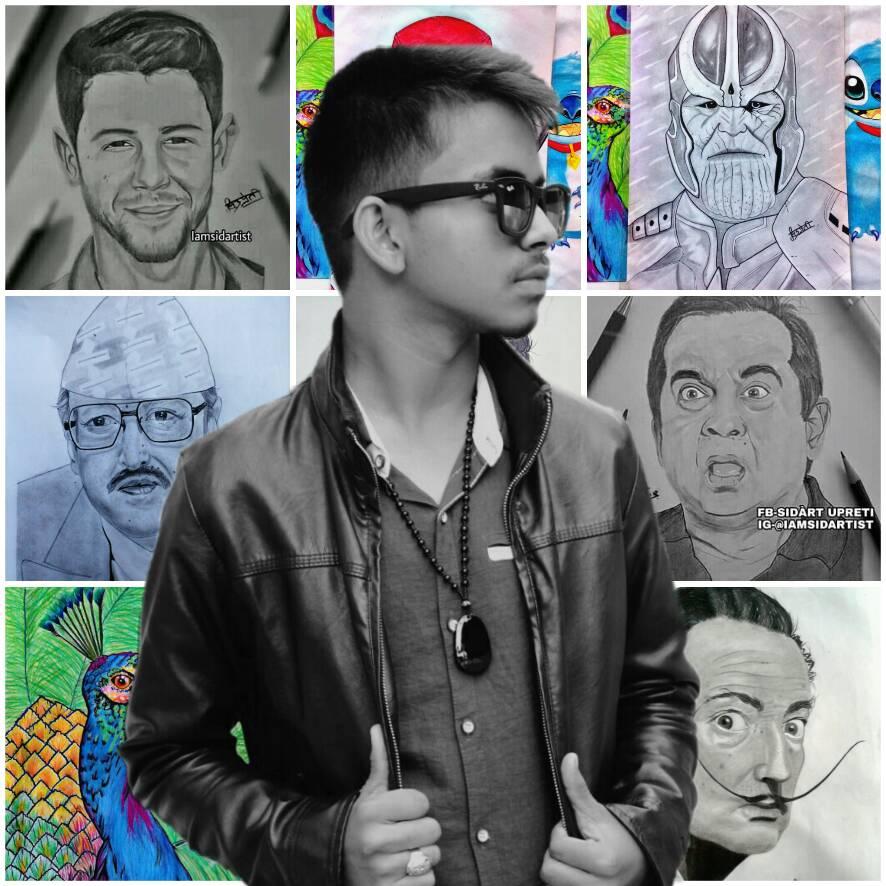 All that success did not come easy though. Has success even been so easy, anyway? So, Siddarth had to go through a self-training. He found a role model in an Indian artist called Saheel Vir Singh. He confesses: "During my early days I wasn't this good, I lacked experience and ideas. Eventually I got  to know a 17 year-old Indian artist. I observed his works and made improvements over the years. That was the motivation factor for me. Sahil is one of my role models in this art journey."
What started as a hobby has turned into a passion and the in a way it is now a raison d'être. He gets much joy out of this creation, like every true artist immersed in their creativity should. He can take up charcoal and do arts on a wall, or use a pencil on paper to find a release of his passion.  Recently, portraits have also interested him. He loves to show various human expressions of emotions, while also not forgetting to capture the different aspects of nature on paper and even canvas.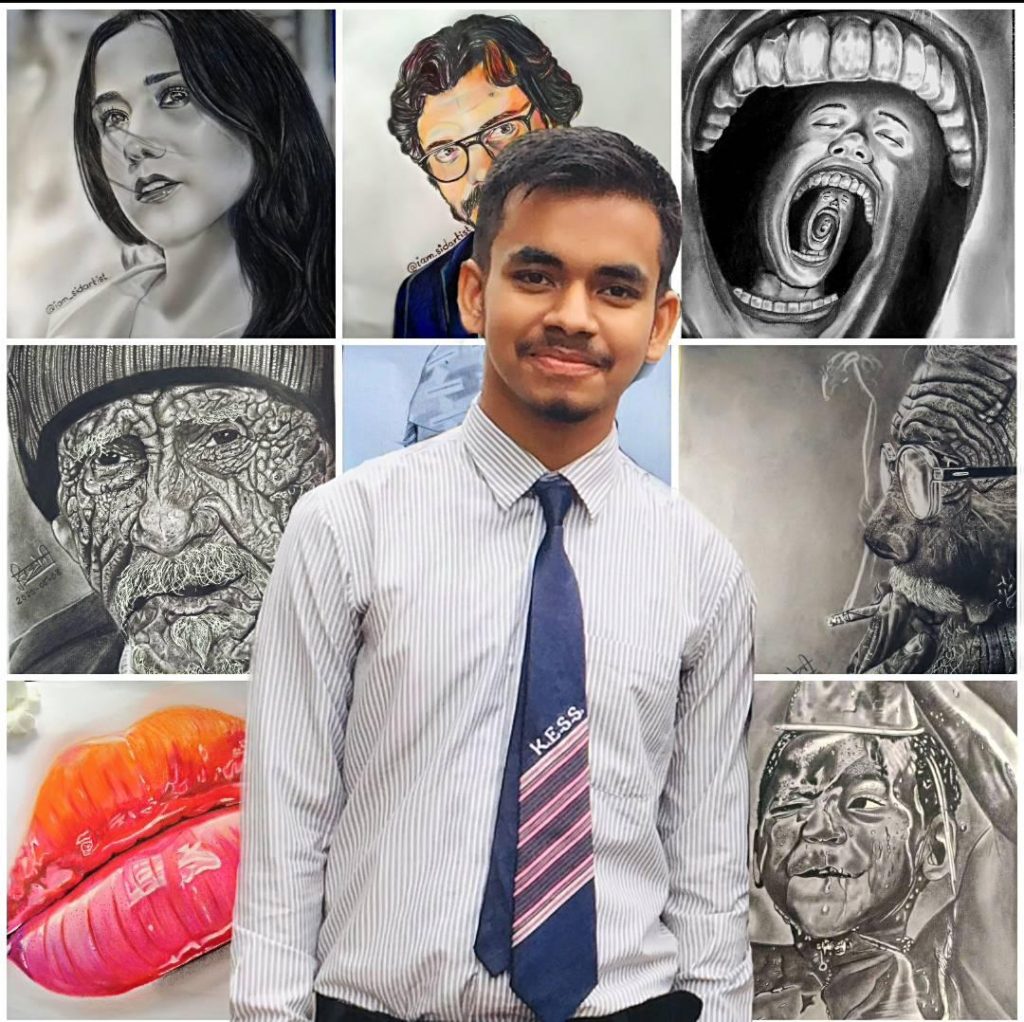 Siddharth deserves to find the right channel and proper market for his arts. As he is passionate about it, his arts are likely to be masterpieces for the right collectors. We can expect great things to him as his talent is showcased in different media platform. One thing we can all agree is that he will never lack money because he can just paint them at will.  Who knows, after knowing his ability, Nepal's Rastra Bank will invite him to design future currencies of Nepal? And thing about it, would he not be better off if he could paint the American currencies? Yes, let's have a healthy laugh!
Siddharth Upreti on Social Media
Instagram: https://www.instagram.com/iam_sidartist/
Facebook (personal)
Facebook: https://www.facebook.com/upretisidartist/ 
Youtube
His other artwork :
Drawing of popular band One Direction who were in new news lately, when they tweeted on their 10th anniversary.  It was the first tweet in couple of years.
View this post on Instagram
Albert Einstein
https://www.instagram.com/p/B-mb80VhGz7/?utm_source=ig_web_copy_link
Nepali actress Swastima Khadka
https://www.instagram.com/p/CBF4QUnhQqJ/?utm_source=ig_web_copy_link
Soccer Player Messi
https://www.instagram.com/p/CBzFDFVh_oI/?utm_source=ig_web_copy_link
The writer is a graduate of Arizona State University in Political Science. He is working as a social activist and motivational speaker for students across Nepal since 2007.  He also blogs at Strong Blog.
The views and opinions expressed in this article are those of the author and do not necesarily reflect the official policy or position of Nepalisite.