First Interview with Abhaya Subba Weise in the USA. Abhaya Subba Weise is the lead vocalist of a popular Nepali rock band Abhaya and The Steam Injuns, who is headlining Women in Concert US Tour 2017.
This interview was taken right after their first show in Cincinnati, Ohio. Popular singer Astha Raut and Malina Joshi (Miss Nepal 2011) are also touring with the band.
In an effort to encourage, engage and empower women, 3E Entertainment has partnered with local community groups, to organize one of the thrilling event–Women in Concert US tour 2017 from Oct 7- Oct 29 , 2017.  Nepal's rock band Abhaya and the Steam Injuns will be the headliners.  Popular singer Astha Raut and Miss Nepal 2011, Malina Joshi will also entertain the crowd along with local artists.  This is also the first US tour for Abhaya And The Steam Injuns.
The main purpose of this tour is to engage, encourage, empower and provide platform to Women in Nepali community.
Part of the proceeds will go to ADHIKAAR, a New-York based non-profit organization, which has been working with Nepali speaking community to promote human rights and social justice for all And SOARWAY foundation, which has helped and is working with many women empowerment organizations in Nepal.
Women in Concert USA 2017 (Facebook page)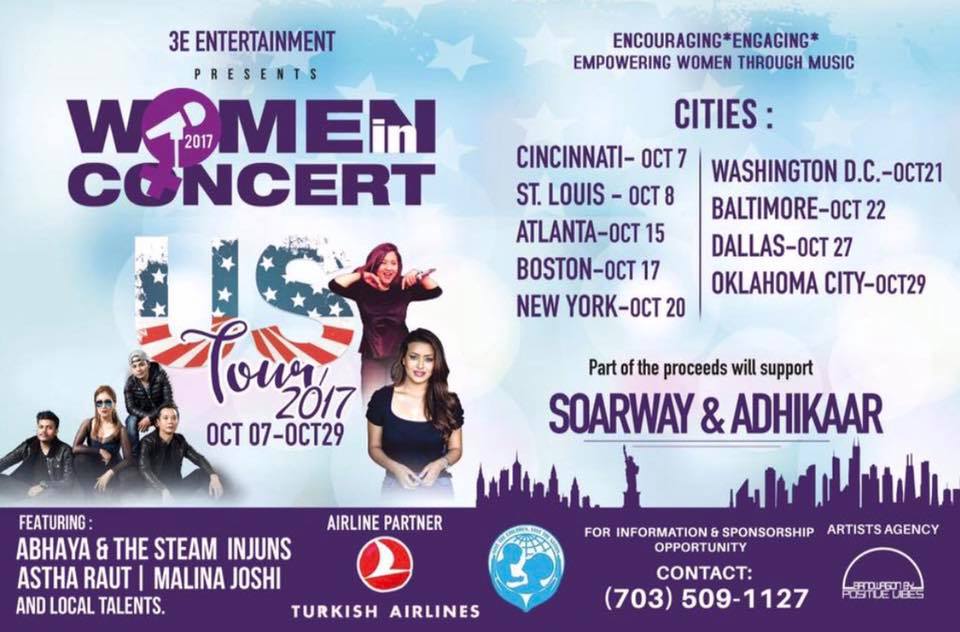 Tour Dates
Oct 7th – Cincinnati
Oct 8th – St. Loius
Oct 15th – Atlanta
Oct 17th – Boston
Oct 22nd – Baltimore
Oct 27th – Dallas
Oct 29th – Oklahoma City