Popular beauty vlogger Promise Tamang Phan did a Nepali Makeup Tutorial Video, for the first time, speaking in her Native Language Nepali.  As of this writing, the video has already received over 500,000 views in less than 3 days.
The video has English Subtitles
She starts the video with a short introduction of Nepal mentioning as the land of Mt. Everest and the birthplace of Buddha.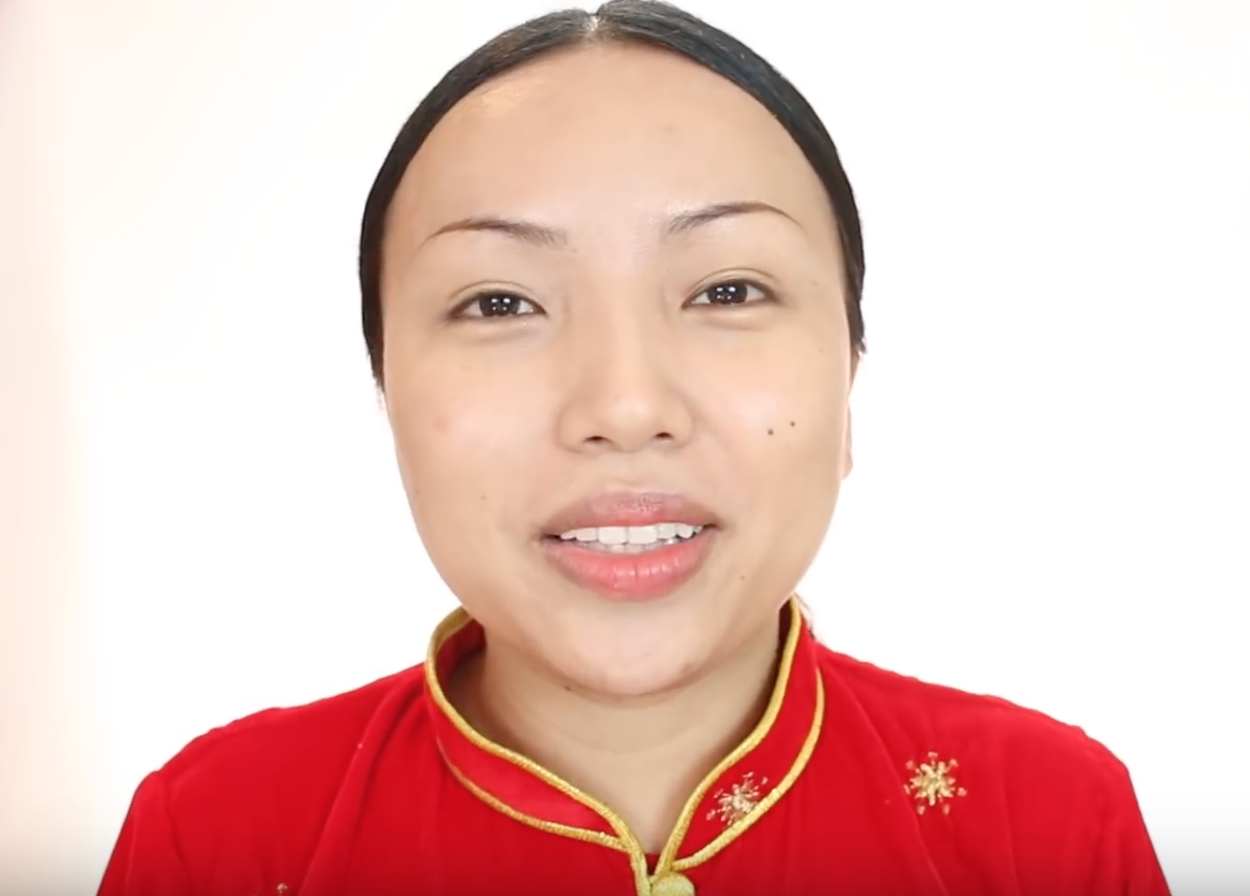 Known for transforming herself into different celebrities, and fictional characters, Promise made this Nepali Makeup Tutorial video dedicating it to her Nepalese viewers and followers.
"I know I have a handful of my subscribers are from my country Nepal so I wanted to do this special Nepali Traditional Makeup video speaking in Nepali language."
Related : First ever video interview in Nepali.
Promise, whose Nepali name is Pratigya, mentions on the video that her Nepali makeup was inspired by the model in a video of a popular folk song "Kafal Gedi Kutukkai."  She even sings a little in the video.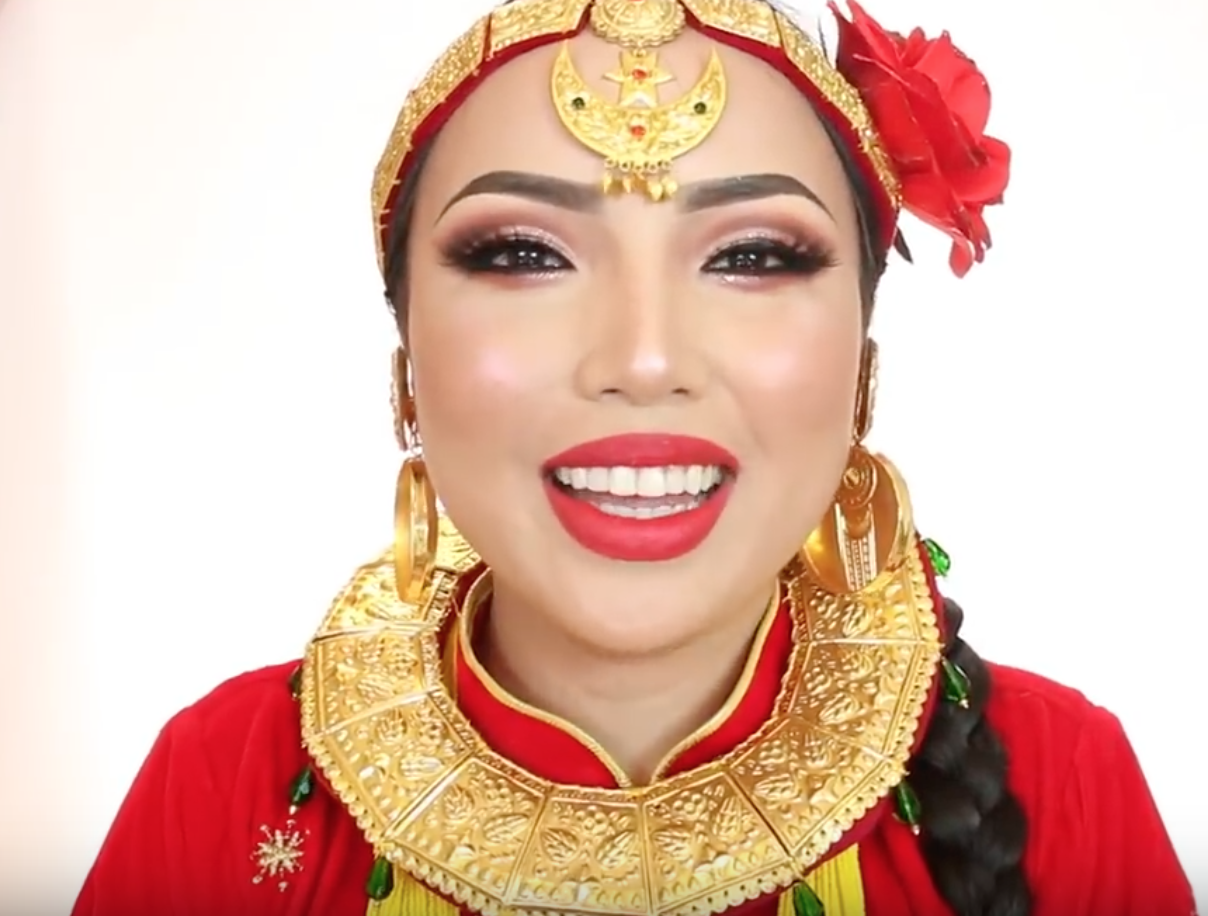 As Promise was doing her Nepali hair extensions, she says that she felt like a Nepali movie star Bipana Thapa, whom she grew up watching.
She further shares some of her favorite Nepali singers – Raju Lama, Nima Rumba and The Edge Band.
While doing the traditional makeup, she recalls her childhood memories growing up in Nepal where she used to participate in various school events including dancing.
She hopes to come up with more Nepali videos in the future and might even dance.
https://www.instagram.com/p/BsmL0igFi4E/?utm_source=ig_web_copy_link
Promise Tamang Phan's first ever video interview in Nepali was in 2012.
https://twitter.com/sanebrokeasian/status/1084775579746848768
Promise (Pratigya) Tamang makeup tutorial – her eye makeup is inspired by the model of 'Kafal gedi kuttukai' 🙂 ! https://t.co/7wsdPgyXQR via @YouTube

— Kanak Mani Dixit (@KanakManiDixit) January 15, 2019
https://twitter.com/SubaniDahal/status/1084630241279135746
https://twitter.com/Sujatapariyar/status/1084969581641371651
Global youtube makeup artist @TamangPhan aka प्रतिज्ञा तामाङ comes up with a very special Nepali Traditional #makeup video for the very first time. Enjoy the video and her singing काफल गेडी कुटुक्कै भैयो भुतुक्कै…. 🙂 https://t.co/rUqbujCJm3 #nepal pic.twitter.com/26EhS1qHB8

— Gundruk Post (@GundrukPost) January 15, 2019
Some facts on Promise Tamang Phan
She is 29 years old (July, 1989)
Promise came to the US, and went to elementary school, all the way to 9th grade before moving back to Nepal.
After high school in Nepal, she returned to the US.
Promise has three younger sisters Pratichya, Angelina and Rose.
She has been married since 2010 to Steven Phan, brother of pioneer Beauty Youtuber Michelle Phan.
She has 5.5 subscribers on Youtube, followed by 1.3 million on Instagram, 987k on Facebook, and 69k on Twitter
She also has a second Youtube Channel Promise Phan with 1.3 million subscribers
Her first video on Youtube was Avatar Make-up !!!!(Neytiri) that was uploaded on Jan 12th, 2010
Her most viewed video as of this writing is 'INSIDE OUT' Makeup Tutorial (Disgust,Sadness,Joy,Anger & Fear) with 207million views.
Aishwarya Rai Make-up Tutorial
How to look like Beyonce( ft. Jayz and Blue ivy Carter )
Kardashian Makeup Transformation ( Ft. Kim &Kris)