Nepal lost another musical gem.  The name Ramesh Tamrakar might not sound familiar to some , but I am sure you have heard some of his songs specially "Yadai Yaadma", "Aaula Aaulama", "Mero Bato Chekki Chekki".
According to the information provided by his old neighbor Keshar Man Tamrakar (Chemist in the USA), the singer felt uneasy and went to Vayodha hospital in Kathmandu in the evening.  Due to complications, doctors tried to put pacemaker, but was not able to save his life.  He was pronounced dead at 12 Am, Jan 26th due to heart attack.  He further told Nepalisite.com that he didn't have any other serious illness in the past except for the diabetes.
Songs were provided by Sagun Karmacharya
Tamrakar was also a general manager at Rastriya Naachghar, had sang many songs both in Nepali and Nepalbhasa (Newari).  Ramesh Tamrakar who started his singing career in 1972 at Radio Nepal had also completed M.Sc (Mathmematcis) from Tribhuwan University and a MA (Management Studies) from Leeds University, UK.
He is survived by his wife and two sons Sugam and Sagun Tamrakar.  His wife was in India and his son Sugam was in US at the time of his death.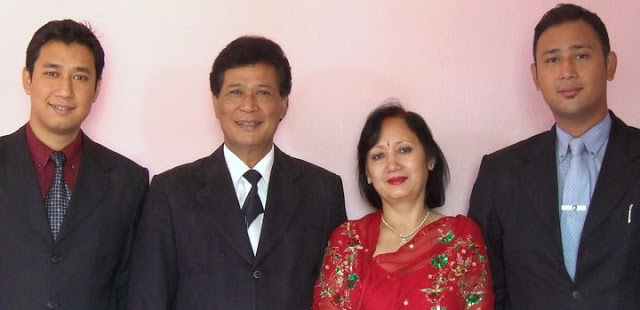 May his soul rest in peace.
Special thanks to Mr. Keshar Man Tamrakar and Sagun Karmacharya for providing information.
Recent Interview on Radio Upatakya