The popular Nepali rock band, 1974AD, has reunited with its original members: Nirakar Yakthumba, Phiroj Syangden, Adrian Pradhan, Sanjay Shrestha, and Manoj KC.  The announcement for the reunion that many fans had been hoping for, was made during a live event on, July 8th, 2019.
All the members, except for Phiroj Syangden, were present at the event, which was streamed live on the band's Facebook page.  Phiroj joined from New York via Skype.  Phiroj Syangden who is based in New York told Nepalisite that he will be traveling to Nepal at the end of August for three months to be with the band.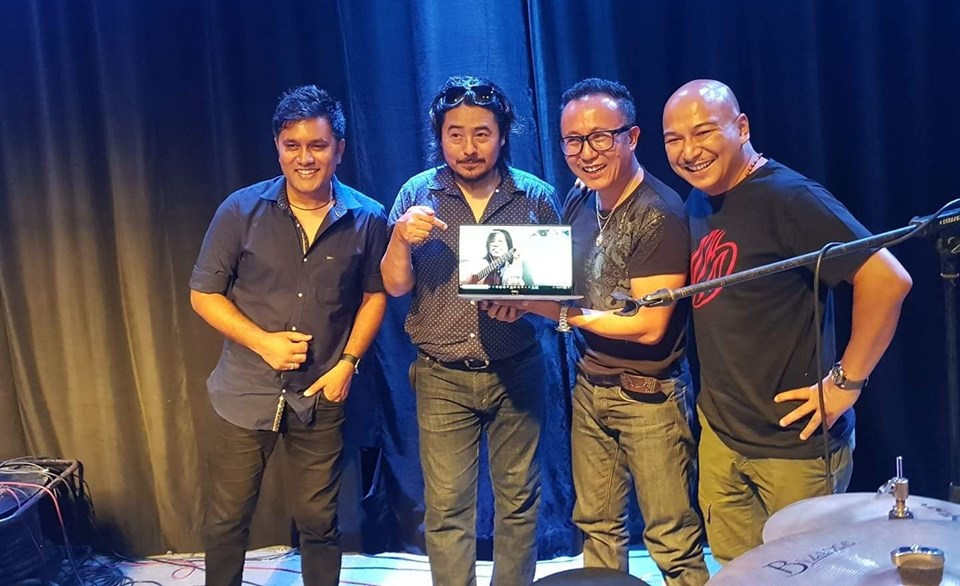 The band kicked off the event with their popular hit "Mutu Bhari", followed by a question and answer session.  Sanjay Gupta, the host of the event, asked a series of questions to the band.  One of the questions asked why the band split in the first place. "Ego clashes, lack of proper management, and frustration" were some of the reason for the split, according to Adrian.  He further said "Let's forget the past.  We are really pumped up to come up together with very positive energy."
We got back first for music, then for fans then for ourselves….and lastly for money…Adrian Pradhan
What about the new members?
When asked about the new lineup including Rohit John Chhetri, Nirakar said that the new members were recruited in 2015.  The members were part of KJCC.  "It was an experience and we wanted to have an experience to play with younger musicians and get new ideas" Nirakar said.  Our project was to do one album Hajar Sapana, and was fun. Very happy to say that most of them have been accepted in good universities in Europe,  and Australia.  Rohit is pursuing his solo career.  We wish them all the best.
New Album and a Concert
The band has promised to come up with a new album and a concert by the end of 2019.   The new album will consist of songs revolving around a few different themes, including "the story of the band splitting and coming back together for the love of new music", Adrian says during the session.  "It will be different and will give us an opportunity to learn as well", Manoj KC added.
Towards the end of the show, Nirakar and Adrian hugged each other upon request, followed by a group hug.
Following their announcement many fans expressed their excitement on various social media platforms and here are few of their postings :-
https://www.instagram.com/p/BzqJPBPBqnS/?utm_source=ig_web_copy_link
https://www.facebook.com/pas4ang/posts/10157932293619252
wow. 1974AD reunited. Khusi lagyo

— Bipin Khanal (@upib_) July 8, 2019
Brilliant news that Adrian and Phiroj are back into 1974AD. Looking forward to the new setup.

— dg (@dg_no_9) July 8, 2019